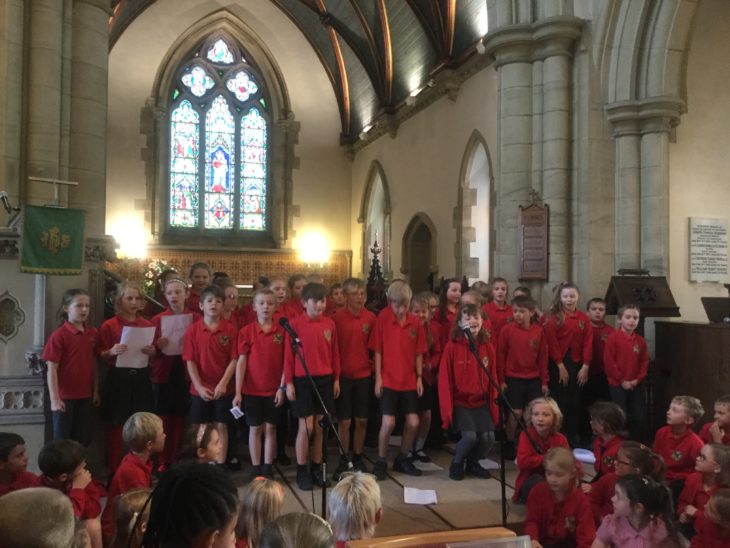 Our Local Churches
Everyone is welcome at any of the services at our local churches.
Following is the usual monthly schedule: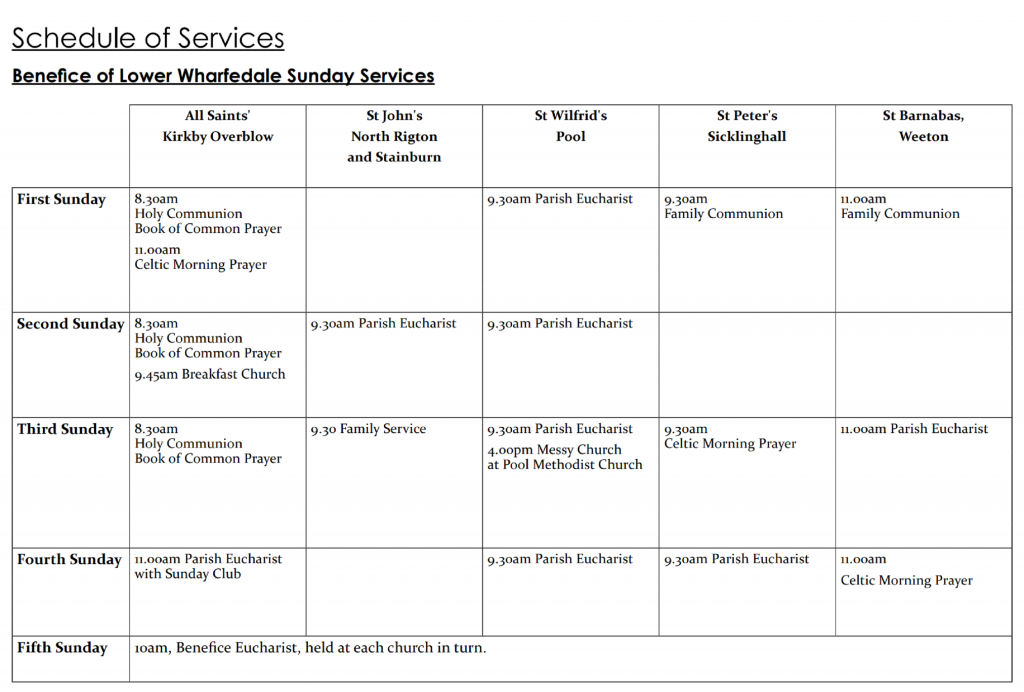 Description of Services
Family Communion
A relaxed service for all the family, lasting just under an hour. It includes hymns, bible readings, a fun sermon and prayers. Complimentary refreshments served after the service.
Parish Eucharist
This service includes hymns, bible readings, a sermon and prayers. It is most suitable for older children and adults and lasts approximately 1 hour. Refreshments are served after the service.
Celtic Worship
This is a relaxed, informal, family friendly service. It includes hymns and bible readings.
Celtic Morning Worship offers a short Reflection, rather than a traditional Sermon, followed by a chance to sit quietly for a few moments to think and pray. Children are offered active roles within the service and it lasts approximately 40 minutes.
Rector: Rev'd Craig Marshall
01423 733341
rector.beneficelowerwharfedale@gmail.com
All Saints Church Kirkby Overblow
Huby and Weeton Pre-school
Huby and WeetonPre-school has been established over 30 years offering a service to the local community where parents and carers can leave their children with confidence knowing that their child will be cared for by dedicated friendly professional staff.
At Huby and Weeton it is our aim to offer the children a safe warm caring environment where every child's individuality is respected and valued. We encourage all areas of development through careful planning of activities appropriate to the children's age in accordance with the Early Years Foundation Stage.
We are OFSTED approved and inspected.
We have no official catchment area and welcome children from all surrounding areas. We have close links to North Rigton Primary School. Based in Almscliffe Hall Huby, we aim to make pre-school accessible to everyone recognising the importance of parental involvement. We are proud of the reputation we have gained over the last 30 years.
We are open Monday to Thursday 8.30 am to 3.15 pm.
We take children from the age of 2 years.
Tots Group is every Wednesday during term time 9.30am to 11.30am, £2 per family.
To put your child's name on the waiting list or for more information please contact us on:-
Tel: 01423 734 436
Mobile: 07815 678338
email: hubyweetonpreschool@gmail.com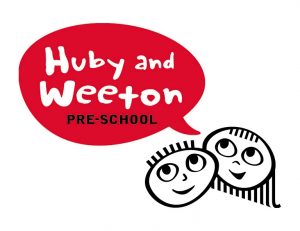 Huby and Weeton Tots Group
Huby and Weeton Tots Group runs two Fridays a month. We are a really friendly group and everyone is welcome.
From birth to four Costs £1
Based at Almscliffe Hall Huby
Almscliffe Hall
Almscliffe Hall exists for the benefit of the residents of Huby, Newby, Castley, North Rigton, Stainburn and Weeton and is also available for hire to the general public as a venue for a variety of functions.
The Hall is available for hire to the general public and the facilities, which include a function room, a stage and a well-equipped and recently refurbished kitchen, make it an excellent venue for dances, wedding parties, plays and concerts.